Le metteur en scène du récit numérique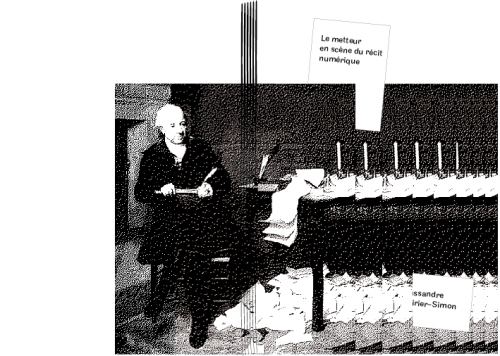 Télécharger le pdf de mon Master Thesis
Raconter des histoires n'est pas une pratique cantonnée au livre. Les vocabulaires médiatiques, les dispositifs mis en place, la relation conteur-écouteur varient, mais les mythes continuent d'être diffusés, les esprits d'être alimentés et les imaginaires animés. Le livre est un contenant, une possibilité parmi d'autres.
Donc, avec l'apparition des lectures sur écran, quand de nouvelles possibilités techniques de mettre en scène ses récits sont proposées, l'auteur devrait s'interroger sur ces nouveaux médias et ses potentialités narratives. Les médias ne sont pas exclusifs, on partage notre temps de lecture entre eux. L'écran ne va donc pas tuer le papier, simplement cela amène d'autres logiques de structuration de l'information. Comment s'emparer de ces outils numériques, comment bricoler avec, comment se les approprier pour sa propre écriture ? Le livre implique une logique de rédaction, et les récits multimédiatiques peuvent utiliser d'autres structures narratives.
Ici s'ouvrent deux voies, celle des écrivains qui ne tiendront pas compte tout de suite de ces nouveaux supports de lecture, et dont les textes seront adaptés de manière automatique quand l'éditeur décidera de les y diffuser. La deuxième voie est celle des auteurs qui voudront s'emparer de ces possibilités. L'écriture numérique est pour l'instant un terrain ouvert à l'expérimentation. Au milieu de ces expérimentations naîtront des standards, et c'est aux écrivains de proposer des mises en formes efficaces pour les fictions.
Une phase d'apprentissage technique est nécessaire, ainsi que peut-être de nouvelles méthodes de travail. Car écrire pour le numérique requiert un panel large de compétences, le statut de l'auteur peut glisser vers celui de directeur artistique, ou de scénariste.
Mais les terminaux de lecture numériques proposés par les industries sont rapidement obsolètes, et on en revient à cette nécessité d'adapter de manière automatique de support en support. Le récit n'est que flux. Qui fait le tri dans ce flux, qui fait le travail de la préservation ? L'écrivain peut repenser sa position dans la chaîne du livre.
Bonus : Parallèle entre mes brouillons et la mise en page finale
Utilisation des marges et de couleurs différentes pour les commentaires et citations
Remerciements à
Nicolas Nova, Daniel Pinkas et Douglas Edric Stanley pour leur suivi et conversations, Celia Houdart, David Calvo et Ambroise Barras pour leurs réponses à mes questions, André Baldinger pour ses documents.
///

[english version]
Tell stories isn't only a book practice. Media vocabularies, system established, relationship between the teller and the listener vary, but the myths continue to be broadcast, minds to be alimented and imaginaries enlivened. The book is only a container, a possibility among other.
So, with the emergence of the readings on the screen, when new technical possibilities to direct those narratives are proposed, the author should wonder about those new media and their narratives possibilities. The medias are not blinkered, we can share our reading time between them. The screen is not gonna kill the paper, it only brings other logicals of information's structures. How to seize those numerical tools, how to do DIY, how to appropriate them for our own writing ? The book involve a writing's logical, and the multimedia narratives can use others narrative's structures.
Here, two ways are opening : the one of the writers who will not consider first those new devices, and of which the texts will be adapted automatically when the editor will decide to distribute them on them. The second way is the one of the writers who will want to seize those opportunities. The digital writing is a field open to experimentations. In the midst of those experimentations, standards will emerge, and it's to the writers to make effective suggestions for fictions.
A technical learning phase is necessary, and maybe new work's methods. The author's status can moves imperceptibly to the art director one, or the scenarist one. But the reading devices that the industries construct are obsolete quickly, and we come back to this necessity to adapt automatically from one device to another. The narration flows. Who's sorting into this flow, who's making the preservation's work ?The writer can reconsider his position in the book's production chain.